Journal of Health Care for the Poor and Underserved
Special Offer for Association for Community Health Improvement Members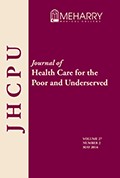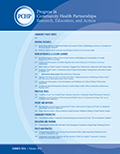 The Johns Hopkins University Press and the Association for Community Health Improvement have reached an agreement under which members will receive a 20% discount off the usual subscription price of these two journals:
---
---
Journal of Healthcare for the Poor and Underserved
The only professional journal in the US that focuses exclusively on contemporary health care issues of low-income, under-represented, and other medically underserved communities, the Journal of Health Care for the Poor and Underserved addresses such diverse areas as health care access, quality, costs, legislation, regulation, promotion and disease prevention. JHCPU is the official journal of the Association of Clinicians for the Underserved.
Progress in Community Health Partnerships: Research, Education, and Action
The mission of the Journal is to facilitate dissemination of programs that use community partnerships to improve public health, to promote progress in the methods of research and education involving community health partnerships, and to stimulate action that will improve the health of people in communities. Communities, as defined by the Journal, may be based on geography, shared interests, or social networks. The Journal is dedicated to supporting the work of community health partnerships that involve ongoing collaboration between community representatives and academic or governmental partners. This area of research and evaluation may be referred to as community-based participatory research (CBPR). The W. K. Kellogg Foundation defines CBPR as a collaborative approach to research that equitably involves all partners in the research process and recognizes the unique strengths that each brings. CBPR begins with a research topic of importance to the community and has the aim of combining knowledge with action and achieving social change to improve health outcomes and eliminate health disparities.
---
---